Art Therapy for Amputees: Improving Mental Health and Overall Well-Being
I recently spoke with the Prosthetix Shop about how art therapy can support amputees with their mental health, including trauma and grief, mobility, and overall well-being. As an art therapist with experience in working with amputees, I shared how art therapy can help individuals:
work through medical trauma,
improve body image,
increase self-esteem,
navigating a new way of life.
 "If you feel like no one understands you or the pain you're going through … I'll be here with you through the whole process, wherever the journey takes you. Art therapy works with the brain differently than talk therapy does. That part of your brain that feels blocked or foggy due to trauma, starts to hook back up with the parts of your logical brain that are your verbal centers."  Read more on their blog post here. 
We tragedy happens, people can experience traumatic grief.  It can be an emotionally painful process and difficult to navigate on your own.  That's why I special in grief work, which you can read more about here.
I thought it might be helpful to offer this information here as well.
More than Treating the Body – Treating a Person
First of all, while the medical industry is excellent at treating the physical body, it often fails to address the complex emotions that can impact a person long after the acute physical healing process is complete.
Furthermore, amputees may struggle to express their emotions and thoughts related to their amputation.  They often feel misunderstood or stigmatized, and as a result, may be hesitant to seek mental health support.
Effects of Trauma on the Brain
Medical Trauma can Result in PTSD
"I don't know what to say."
When someone experiences trauma, they may struggle to express themselves verbally due to the visual and emotional parts of the brain being affected. Art therapy helps to connect the blocked or foggy parts of the brain to the logical, verbal centers.  Therefore, art therapy promotes healing through the doing, not the talking.
Common Emotional Concerns for Amputees
Amputees may experience grief and mourning, struggle to accept changes to their body, and face depression, anxiety, PTSD, chronic pain, and adaptation difficulties. These emotional concerns can be challenging to navigate alone.
How Art Therapy Can Help Amputees to Support Mental Health and Trauma
Art therapy for amputees helps individuals reconnect with hidden parts of themselves, empowering them to build a new future while honoring their past. Through individualized and unique treatment in the therapeutic relationship with the therapist, individuals can gain a better understanding of themselves and make meaningful changes in their lives.
Get Started – Let's Talk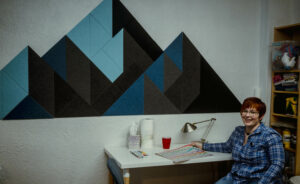 If you or a loved one is an amputee struggling with emotional concerns related to their amputation, consider trying art therapy. Contact me for a complimentary consultation as a mental health check-up to see if we are a good fit to work together.