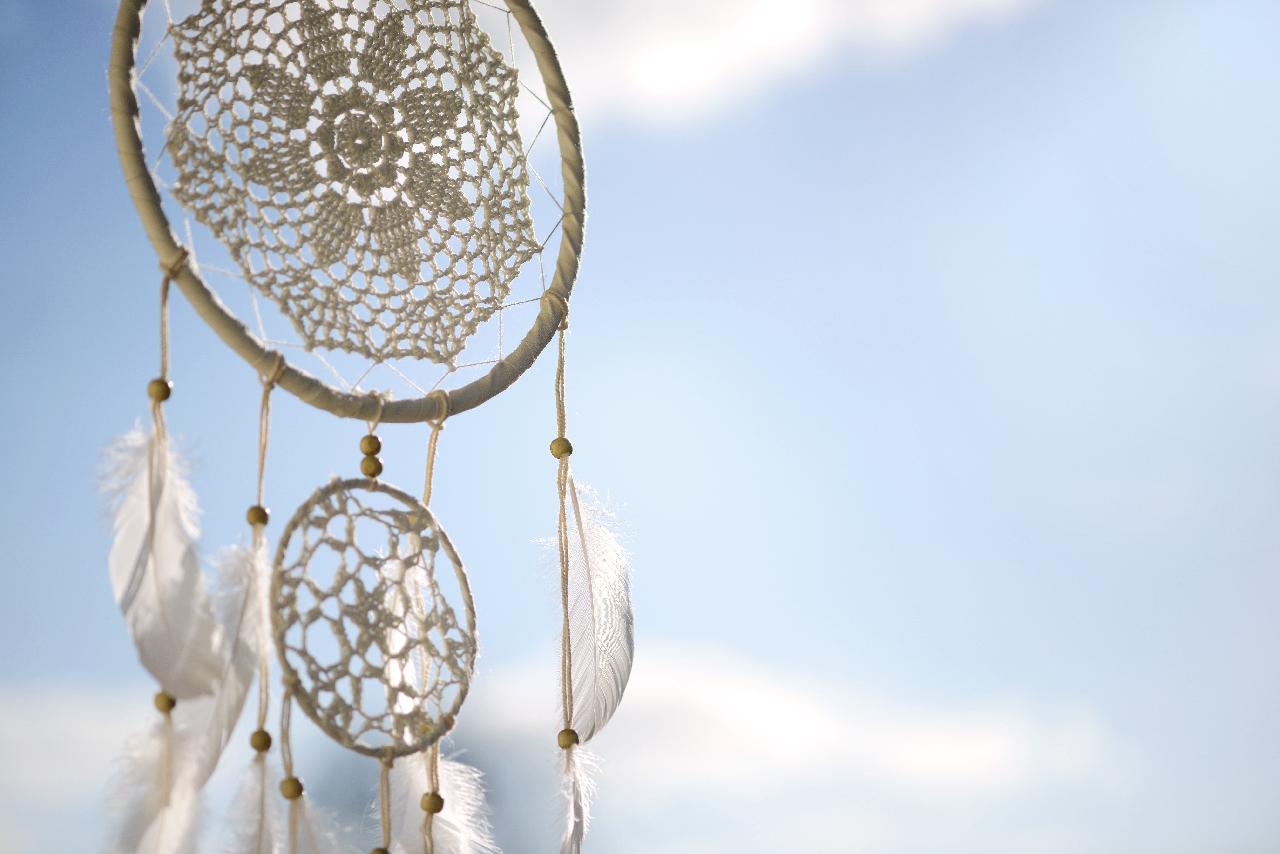 "Once I understood what that dream was telling me, it was like my whole life opened up.  It helped so much."
 You want more clarity on your path.  You have an underlying sense of purpose that drives you forward, a spiritual yearning. 
Or maybe you want to learn more about yourself, listen to your intuition, and understand more about yourself, your desires, and what you really need to do to get to where you want to go in your life. 
What is the next step?  How do I release the ties from the past so that I can do my work in the world, to really grow, to move forward?  What is the future I'm destined for?
The dream maker offers you clarity on the past, the present, and the potential future.
Working with dreams is a deeper way to improve your quality of life and align with your future goals.
Images from your dreams are living symbols, carrying with them lost treasures and power, waiting for you to claim them.  These symbols are pregnant with possibility.
They are presenting you with the opportunity for insight. 
You are ready to level up. 
It is time to open the door to your dreams; to know yourself in a way you've hoped for.
No art experience needed. 
Group will be led by Maggi Colwell, who has a master's degree in art therapy and has a master's level dream pattern analysis certificate.  She continues her personal work in her own dream exploration in Jungian Analysis and is a training candidate at the CG Jung Institute Zurich. 
Dreams speak through images and the visual centers of our brains.  Exploring through art can help connect the parts of the brain that understand visual processing with our conscious, more linear, verbal centers.  Learn more about dreams here:  https://columbusarttherapy.com/dream-interpretation/
Testimonials:
Maggi's dream group offered me profound insights into my struggles and psyche. Maggi was shining lights on seemingly confusing symbols and situations in my dreams. I have discovered many things about myself. I also learned so much more about symbolism and archetypes. Each class was like an adventure to our subconscious. We also did tons of Art in these sessions, and it was therapeutic to me, I never thought I could draw!! If you have intense dreams with lots of visuals and emotions, or simply want to learn to depict your own dreams, I would highly recommend Maggi's dream group. -A
Ever find yourself having repetitive dreams, vivid, or odd, or specific dreams and you'd like to know more about the message behind them?  I've been having all of the above since I retired (yes, two years ago!!!) and they'd become like nightmares.  As fate would have it, I met Maggi Colwell and wow! They have made everything make so much more sense.  I "get" the waking perseverations as well as the sleeping ones.  I see messages in so many new ways thanks to our work together.  I can't recommend the work they do to integrate all of your Selves into you.  Worth every minute.  Worth every penny.  -K
Invest in Your Future Self
One payment of $525 for the first 8 sessions.  ($75 savings).
Or
$150 a month ($75 per session).  Monthly automatic payments for 4-month series.
How do I sign up?
You can save your spot sending me an email at maggi@chironarttherapy.com. 
If you have more questions, schedule a consultation with me and we can chat!
FAQ
What is an art therapy dream group?
This group will be starting on October 11 and meeting online, twice a month, for at least 8 sessions.  Groups will be a small, intimate setting with a max of 8 members.  The group will include the following:
Lessons about understanding your dreams including techniques for a deeper dream practice, different aspects of dreams, and art prompts.  Get your burning questions answered about dreams.
Art making in group to process the content and dream images.
Group discussion and member support for concerns brought up from the dream content. Group incubation of dreams creates the magic that the whole is more than it's individual parts.  Minds working together connect to more possibilities from the psyche.
Recommended resources for further exploration and study.
I don't always dream; can I still participate? 
Yes, you can bring old reoccurring dream themes to work on. You may find that by giving yourself an invitation to dream and investing time on your dreams, that you will dream more.  The group environment will allow you gain insight from other people's symbols in the discussion as well.  I'll want to add here that fantasies and daydreams work the same way dreams do, so you may notice waking content that is useful to work with too.
I am NOT an artist!  I can't draw a straight line!  Will this work for me?
Yes! No artistic talent or experience needed.  The art is not about making a pretty picture in the end.  It is a way to process using your hands, the visual centers of the brain, and engage in creative problem solving.  It helps you to experience symbolism in ways you wouldn't through only thinking or talking about it. 
I am not sure I'll be able to make every session.  Is the group still right for me?
It is preferrable for everyone to be able to commit to all the sessions. It helps everyone feel supported and connected in the group environment.  I understand that sometimes illness or emergencies happen though.  Lessons will be available outside of class.  The group processing will remain private and not recorded. 
Is this therapy?
Technically no. It is not therapy.  We are not treating psychopathology.  The group is intended for exploration and well-being, which are not considered diagnosable according to the medical model.  However, you may find reduced stress, insight, and social support from the group which can be very beneficial. 
If you are mainly concerned with concerns such as depression, anxiety, or grief, you may be more interested in art therapy with me. 
What will be covered in the lessons?
The lessons will be available concurrently with the sessions so you can ponder the material and do some art journaling before each session. You will get access to these lessons forever so you can refer back as a resource in the future.
The topics covered will be as follows for the first 8 lessons.
Introduction to the World to Dreams:  Creating Sacred Space – Inviting your Dream maker and Keeping a Dream Journal
The Beginning-Understanding the Archetypal Threshold
Symbols and the Transcendent Function
Working with Complexes
Shadow Work in Dreams
Tracking Themes in Dreams
The Process of Individuation
Anima/Animus/Animum -Internal Guide to the Depths
This is fascinating, where do I learn more? 
You can read more about dreams on my dream page.  https://columbusarttherapy.com/dream-interpretation/
Still not sure?  You may be interested in taking my class on dream work here.
https://academiahermetica.com/courses/meaning-of-dreams-science-and-augury/#learndash-course-content
Just want the lessons to work at your own pace or does the group session schedule not work for you?
The lessons are available for $200.
Is being a part of a group not your thing?  Do your dreams feel too intense, awkward, or just too private to share with a group?  That's okay, I do dream work with individuals for $200 per weekly session.
 __________________________________________________________________________________________________
With archetypal art therapy and dream pattern analysis we look at your internal symbol sets together to make sense of where your internal compass is telling you to go.
You can save your spot sending me an email at maggi@chironarttherapy.com. 
If you have more questions, schedule a consultation with me and we can chat!
I work with people to uncover the patterns in their dreams so that they become attuned to their inner voice, can follow their own calling, and feel more comfortable to take care of their own needs.  The creative process explores problem solving, and your own symbolic language so that you can hear what YOU want and plan your future path for you and your story.